The Challenge



Helping farmers protect crops
Bayer Crop Science, one of the world's leading innovators in crop science and pest control, believes the world needs more innovation in agriculture. To support its mission, Bayer devotes a significant portion of its $4.5B R&D budget to exploring new ideas and collaborations through open innovation.
One of those vehicles, Bayer's Grants4Ag program, provides financial support for novel, early-stage scientific innovations. The program serves as one of the company's primary avenues for identifying potential research partners for larger-scale, long-term collaborations.
"Our previous Grants4 programs succeeded in attracting top proposals in targeted niches – particularly biotech traits and biologicals. The new Grants4Ag model expands the reach to a greater number of potential applicants, and therefore more diverse innovations," explained Phil Taylor, PhD, Bayer's Open Innovation Lead.
Bayer had built its own innovation portal to promote its research interests and funding opportunities, but it lacked critical functionality. For example, there was no easy way to track the status of proposals, collect feedback from its internal experts and respond to applicants. Proposals were submitted by email, often in different formats, which added to the complexity.
Dr. Taylor and Bayer's Innovation Scout, Al Kriz, PhD, came to Halo in search of better software to effectively manage proposals and a partner to support their broader, more ambitious vision for the Grants4Ag program.

The Solution


Discovering new pockets of agricultural innovation
Bayer's overarching question was simple: how can we help farmers protect crops? Dr. Taylor and Dr. Kriz then zeroed in on three areas to explore for this year's program:
The Action


Magnifying its reach
Bayer took an active role and promoted the RFPs in partnership with Halo. To launch the program, Bayer and Halo issued a press release announcing that Grants4Ag applications were now being accepted through Halo. This garnered media attention and spread awareness about the program.
Following the press release, Halo and the Bayer team coordinated social media posts to capitalize on the initial buzz and further amplify awareness.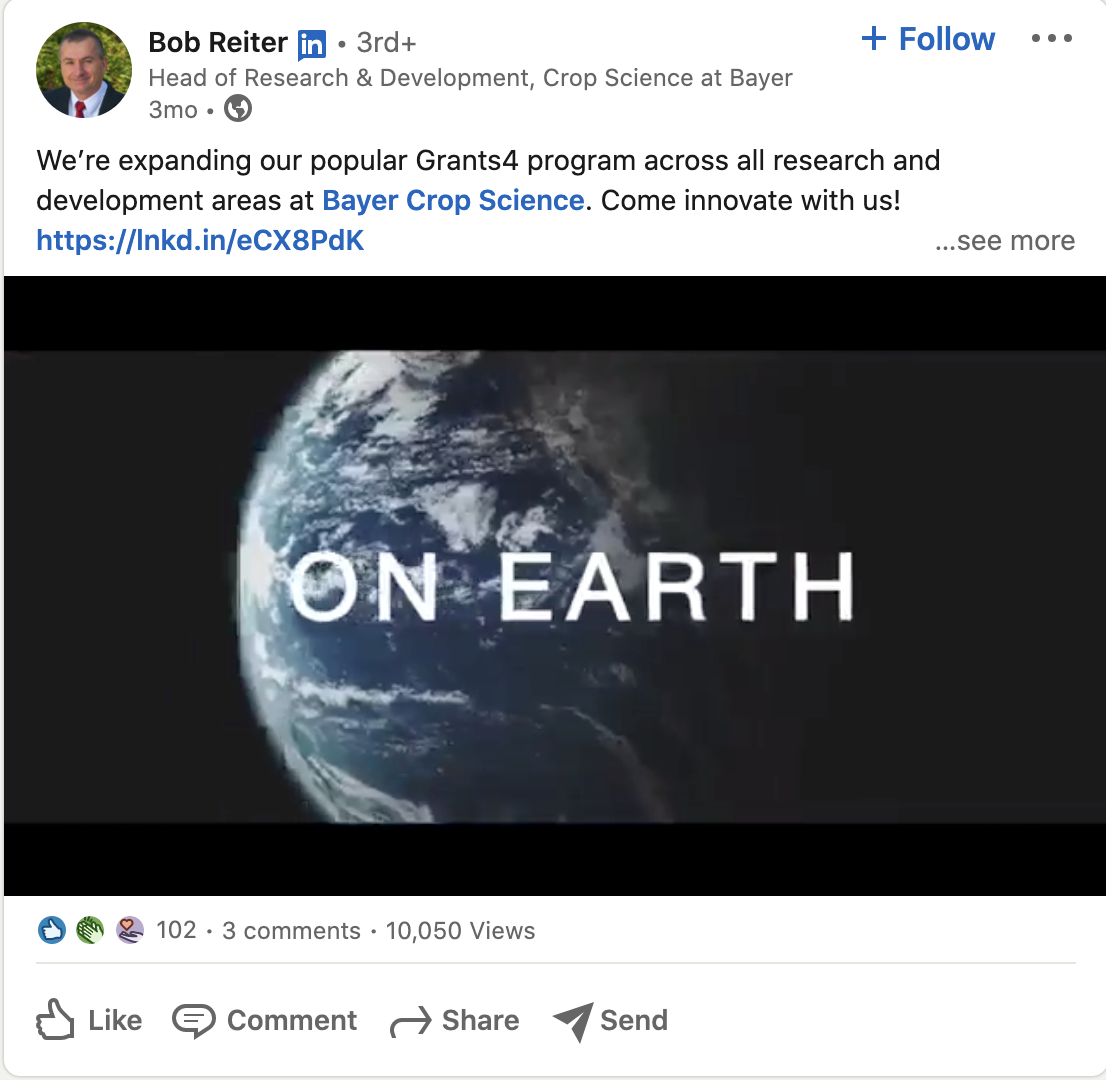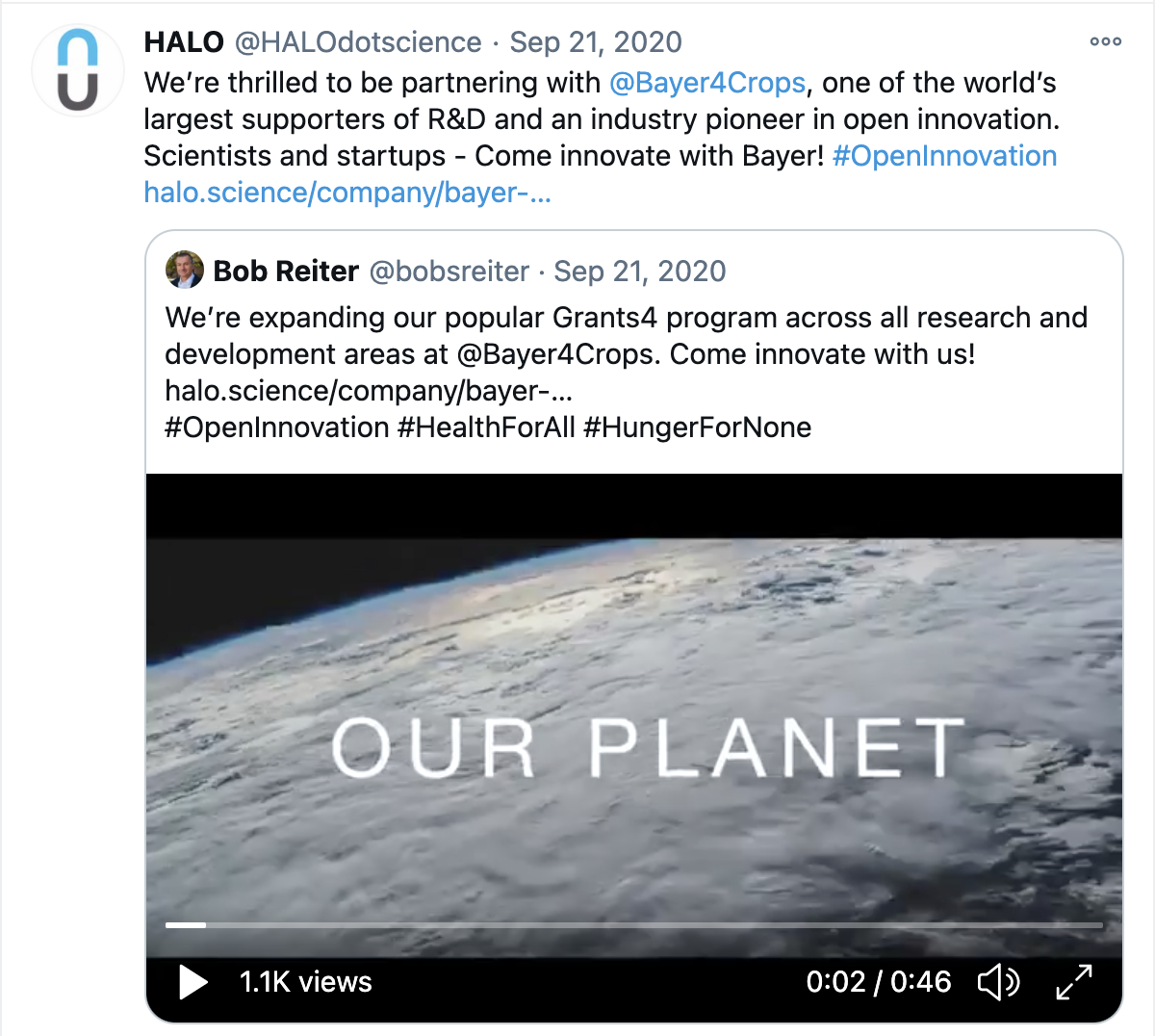 So Bayer could connect with researchers on a more personal level, Halo produced three webinars across three time zones to accommodate scientists from the Americas, Europe and Asia. Hosted by Dr. Taylor and Dr. Kriz, interested scientists learned more about the Grants4Ag program and the research interests of Bayer. In the weeks leading up to the webinar, Halo and the Bayer team jointly promoted the webinars on social media. Ultimately, the webinars were attended by nearly 350 scientists from across the world.

Phil Taylor, Open Innovation Lead and Al Kriz, Innovation Scout, discuss the three opportunities on Halo and connect directly with potential applicants.
The Results



Receiving 8x more proposals
Last year, Bayer received around 80 proposals from fewer than 20 countries for its Grants4Ag program. Hoping to reach more scientists through Halo's global network, Dr. Taylor and Dr. Kriz set a stretch goal of 250 proposals. By the deadline, Bayer had received more than 600 proposals from almost 40 countries.
Bayer ultimately funded 24 projects and connected with hundreds of scientists outside its already expansive international network. Using Halo's networking tools, Dr. Taylor and Dr. Kriz can also track the progress of the scientists who submitted proposals and pull from an even deeper talent pool for future Bayer projects.
Connect with us to learn more