The Challenge



Turning tap water into dialysis solution
Baxter, a global Fortune 200 healthcare and medical device company, invests $650 million annually in R&D and home dialysis is one of its largest product segments. Like all forms of dialysis, home dialysis requires a special solution made from "ultra pure water" formulated in factories, packaged in IV bags and shipped in boxes to patients around the world. The average home dialysis patient receives 900 pounds (not a typo) of this solution every month.
This is incredibly costly to Baxter and burdensome to patients. Matt Muller, PhD, Director of Applied Innovation at Baxter, came to Halo in search of technologies that would allow patients to make dialysis solution from the tap water in their home, relieving them of this burden.

Patients receive 900 pounds of dialysis solution delivered in boxes each month
The Solution



Tapping into a global network of scientists
Baxter provided Halo with three problem statements all related to the challenge of turning tap water into dialysis solution, which would require the removal of minerals and chlorine as well as a way for patients to accurately detect the presence of chlorine (chlorine is toxic if it enters the bloodstream). With the help of its water advisors, Halo rewrote and edited the problem statements to ensure the requirements would be clear to scientists. A series of user testing sessions were conducted with scientists as well. Based on the guidance from the water advisors and feedback from the user testing sessions, Halo recast the three problem statements into the following RFPs:
In addition to promoting the RFPs to its global network, Halo produced three webinars hosted by Dr. Muller and attended by more than 300 scientists and startups. Attendees learned more about Baxter's innovation interests as well as the requirements of each RFP. After a brief presentation, scientists asked Dr. Muller questions directly to further clarify the requirements of the RFPs.
Matt Muller, PhD, Director of R&D at Baxter, discusses the opportunities on Halo and answers questions directly from scientists during one of three webinars
The Results



Funding more projects in less time
Prior to Halo, Baxter typically promoted RFPs through startup accelerators. This involved identifying the accelerator, writing the problem statements, marketing the RFPs, and then reviewing and responding to the proposals.
With Halo, Baxter received far more proposals in half the time, and from universities and countries where it had no presence or visibility. From the webinar and upfront diligence, the proposals as a whole were also higher quality and better satisfied the requirements of the RFPs. After a competitive final pitch, Baxter ultimately selected three projects for funding.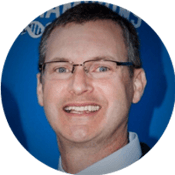 "

Halo has given us a lot of new and fresh ideas that line up with our business needs, great visibility into what universities are focused on, and who's doing what in our field. It's also given us a much broader reach than through traditional channels. That's been exciting

."
Matt Muller, PhD
Director of Applied Innovation, Baxter
Connect with us to learn more